Appearing in the pages of UCT Rag Mag Sax Appeal, by Tim Harris and Graham Laurance, as both a homage to the cheaply-made and spy-obsessed South African photocomics of the 60's and 70's while simultaneously shilling for the Butler's Pizza franchise, Dick Gunner came under the jurisdiction of Little Old Man glitterati Tom McNally and Gavin Haynes mainly because no one else was using him and was pounced upon with gusto. Here's what we came up with:

Dick Gunner: Agent OF A.G.E.N.T.
Written by Tom McNally, photographed by Johan Strumpfer, starring Dirk Kristen, Pat Lambson, Johan Strumpfer and Lauren Sale.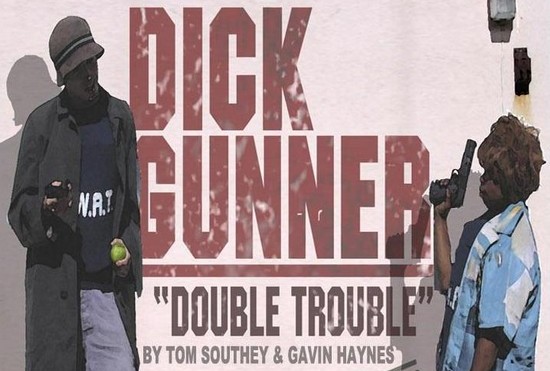 Dick Gunner in "DOUBLE TROUBLE"
Written by Tom Southey and Gavin Haynes, photographed by Gavin Haynes. Starring Dirk Kristen, John Bauwens, Dave O' Reilly, John Haynes, Lee Halliday and Mike McNally.
This Dick Gunner outing was done outside of the usual Little Old Man circles, but still within comfortable social orbit. Thought lost and forgotten until it turned up on my hard drive, here is the episode where it all went TJ Hooker.

Dick Gunner and the Case of the Rainbow Serpent
photographed by Tom McNally, written by him and Sebastian Borckenhagen and starring Dirk Kristen.
Boasting the distinction of being rejected by that paradigm of quality, Sax Appeal, possibly due to the lack of a direct relationship to the editor, this one found its way to Semiotic Cohesion Number 2 where it stayed happily monochrome for a few years before being dug up and made to do its duty for this very website.

Dick Gunner: Never Is The Last Kiss For Tomorrow, written by Tom McNally, photographed by Johan Strumpfer, starring Dirk Kristen, John Haynes, Gavin Haynes, Ashleigh Gordon, Nishalin Govender, Brenda Bedborough, Robin Stark, Zane Henry and Jaime Farrell. Kerrin Naude handled the lights, Ashleigh Gordon did the make-up, Ed Babb did the title panel and the bit with Hitler's brain.
Produced with an actual budget for the Sax Appeal under the control of one Mr. Gavin Haynes, with lights and make-up and everything, this is the Dick Gunner that killed the franchise. Congratulations, everyone!
Somehow, the King Features Syndicate cartoon, Slylock Fox managed to slip through the sanctions of old South Africa and was able to embed itself in the fleshy minds of the young ones.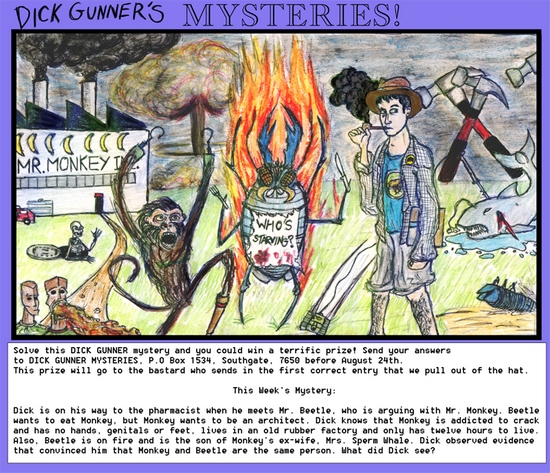 The first, to go with Agent of A.G.E.N.T.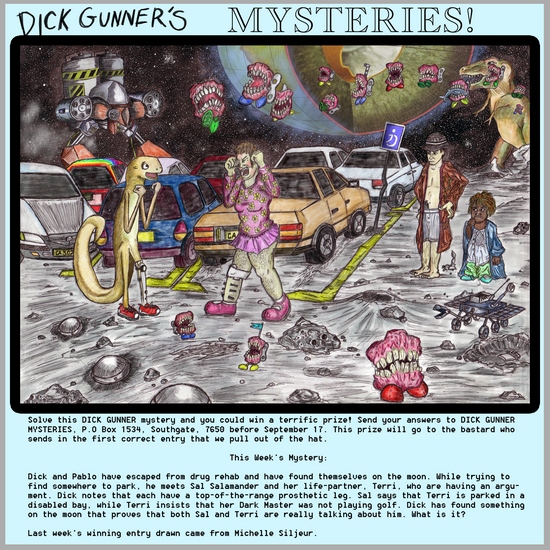 The second, accompaniment to Double Trouble.