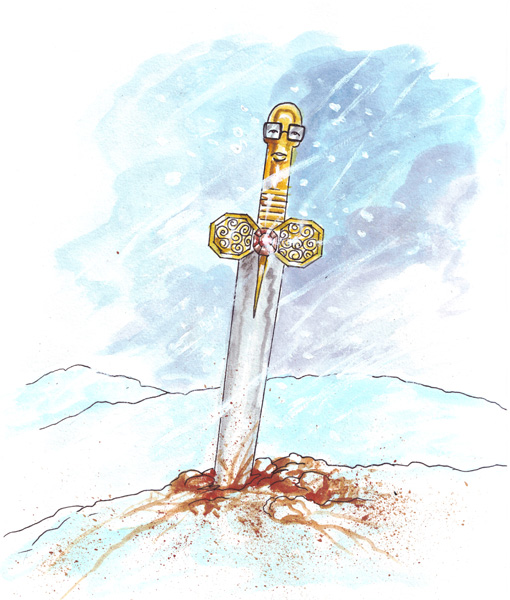 written by Tom McNally, illustrated by Bruno Stahl
This is a story about heroes who are also totally cool. You can't get guys this cool these days, unfortunately. You have to go way, way back to the olden days when magic was everywhere and people generally tried harder. This is a time that is so nice that the King of Europe realises that the only way he could make it cooler would be to personally murder Winter itself so that everyone would be happy and warm all year round.
Also, what's cool is that he has all these rad friends and skill that will help him do this.
Chapters 1 - 20
The King would not be King if he didn't realise that the greatest threat to everyone in Europe being awesome for 100% of the day was Winter itself. He wastes no time in gathering up his best Adventure Friends and setting off to kill that frosty sucker. But guys, keep this in mind, when you go on an adventure, stuff can happen, you know? Exciting stuff!
Chapter 1 - Chapter 2 - Chapter 3 - Chapter 4 - Chapter 5 - Chapter 6 - Chapter 7

'The King Is Coming' was written and performed by Nic Roos, with lyrics by Tom McNally. Alessandro Busetto was on bass, Ameer Saban did the guitar solo with Pravda23, Kevin Rule, Elzanne Roos performing the vocals. It was recorded in Nic's front room and was beset by several disasters.
'A Saga Of A European King' written and performed by Gavin Haynes

| | |
| --- | --- |
| Nicolai and Adam's band is called THE SLEEPERS | while Paul's band is called THE BEAMS |
| | |
| a large chunk of the PRAVDA23 programming can be safely viewed at the link above | Gavin Haynes is some sort of MEALY MOUTHED INKSLINGER |